On Monday morning (3-6am to be exact), Vernon's Turtle Mountain experience a low lying fog. Probably one of my favourite things to photograph, and so I created a 73 megapixel (yes, that is 73,711,552 pixels) panorama.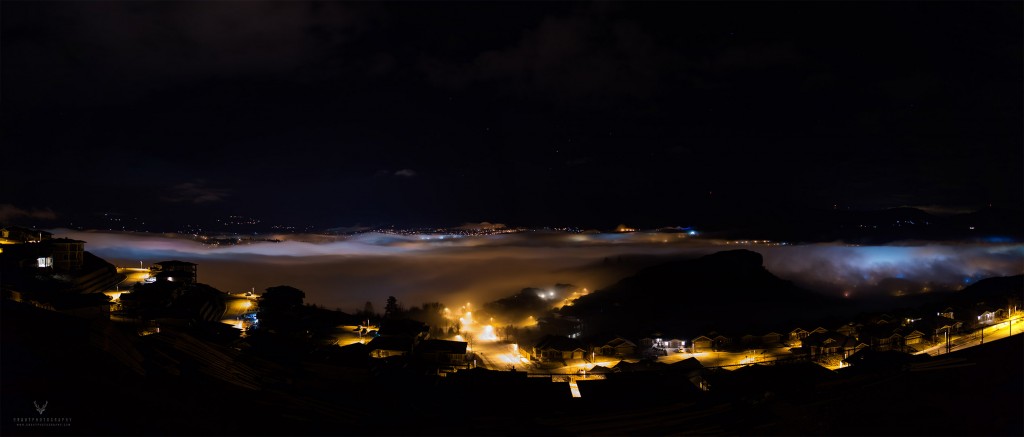 Click the image for the full 73 megapixel file. There's quite a bit of detail in it. Use it for what you like, perhaps a wallpaper for a 73 foot cell phone. I imagine they have those in Alberta.
Some of you may remember my feature from infotel last year. Although I do like that photo better, this is a very different kind of fog. Thicker.
If you're a sucker for detail, check out these two 50 megapixel desktop sized images here and here.
See that mountain there in the middle? That's turtle mountain. I gave it a climb, and filmed the following time lapse.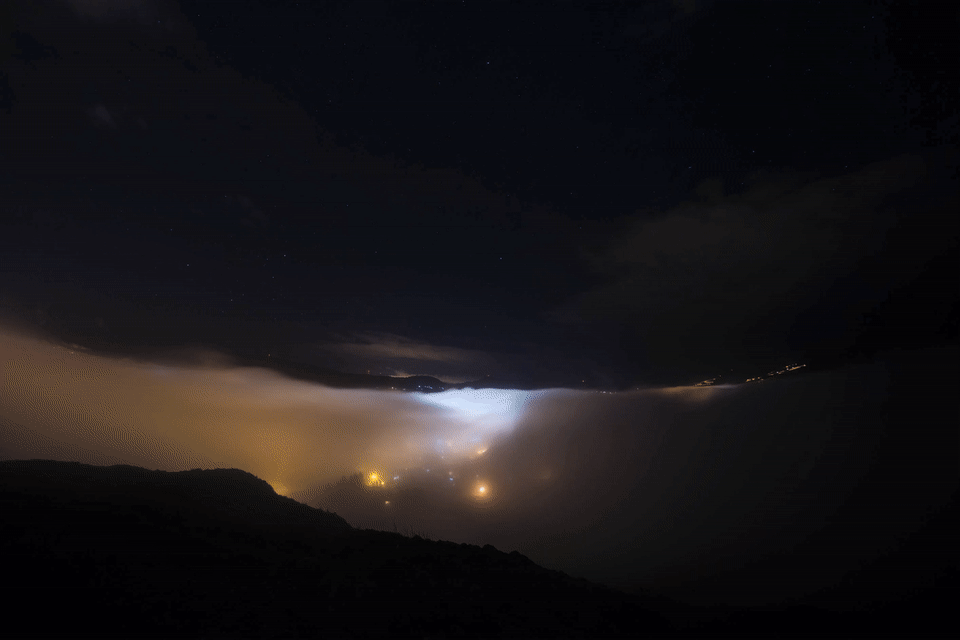 As you can see, like the sea, the levels of fog was constantly changed. Originally, I planned to stay up there for a few hours. However, when the level of fog was neck level it became clear there was no point. Kind of reminds me of the ocean.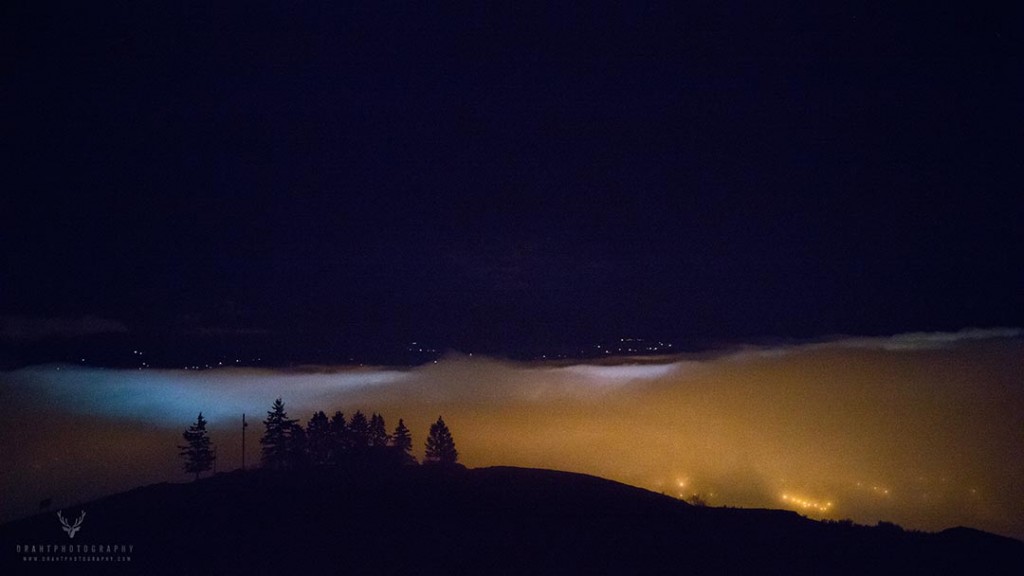 You can see here the fog is creeping up…..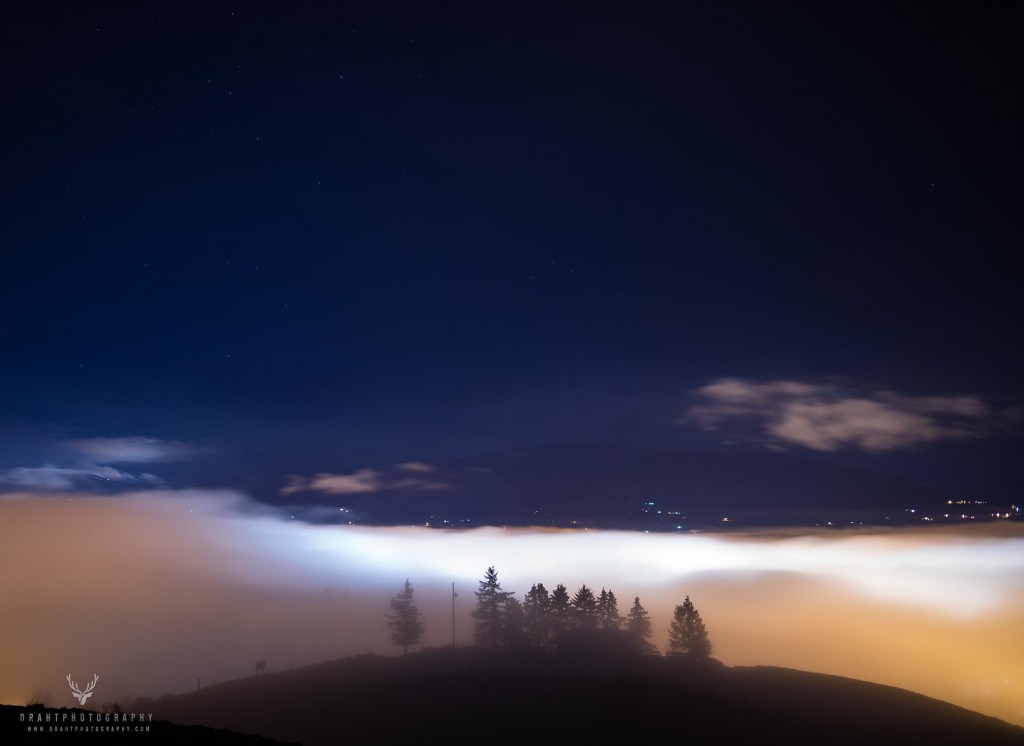 Almost at eye level….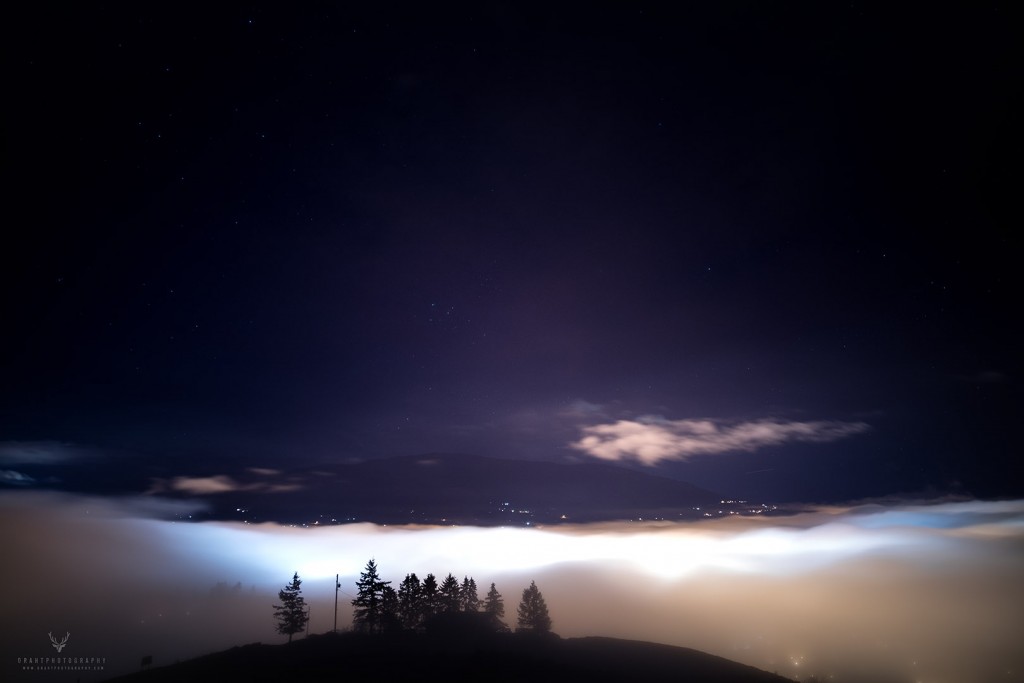 And there she goes. You can almost see the fog bob and weave here.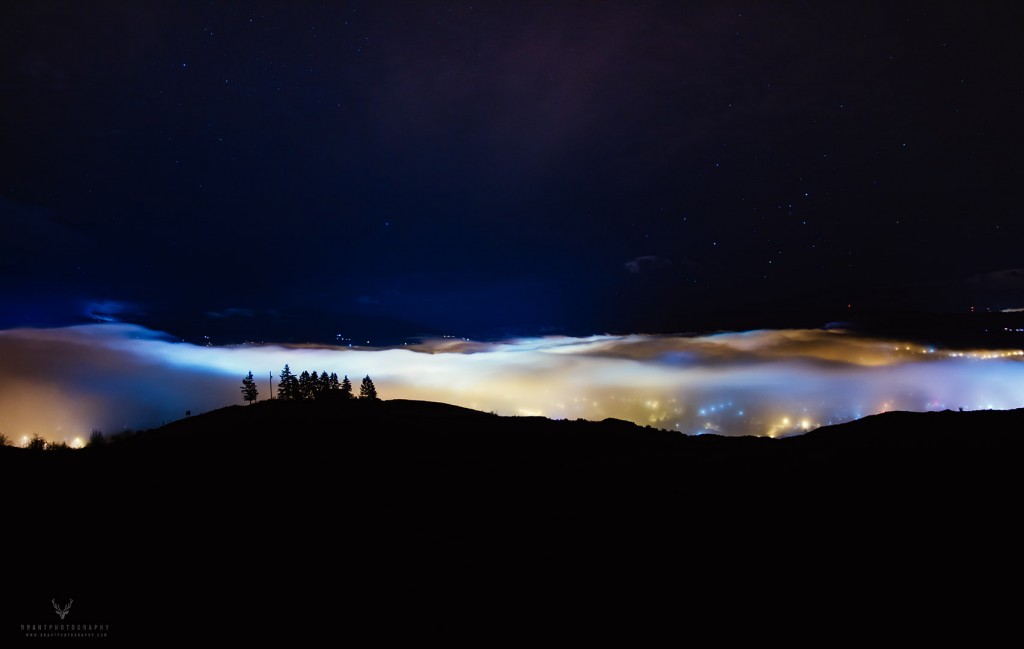 Here's a wider shot for those inclined. I really wish I could have done this photo justice. You can click it for a higher resolution image but seriously….it really is something else.
The calm winds laster for several minutes, and then it started to get cold and windy again. This changed the landscape considerably.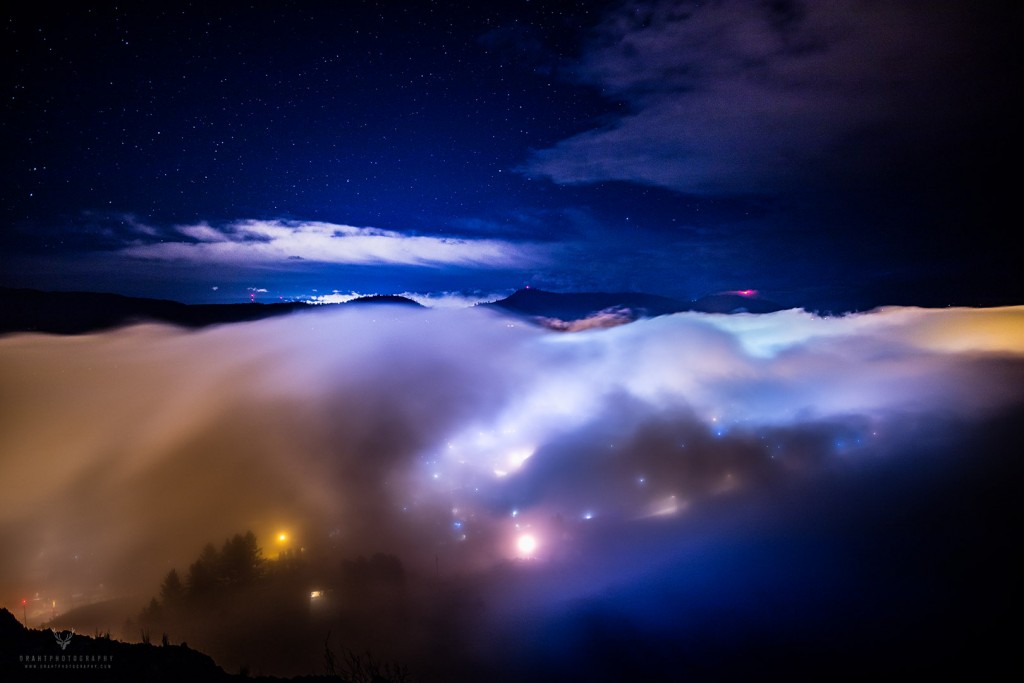 It looks it too. That's the fun, yet kind of annoying aspect of these sorts of nature photos – it looks photoshop, but besides white balance changes, it's not photoshopped.
My wide angle wasn't much better. It did, however, capture a few rogue clouds, as they curled around like waves.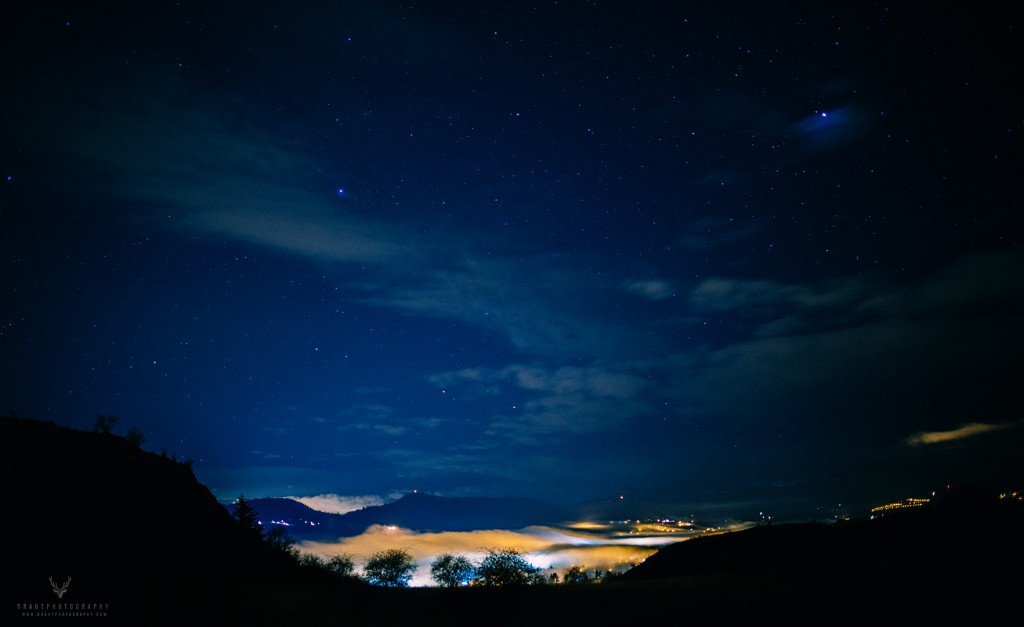 The beauty of a low-lying fog is that the stars really come out. (Fun fact: As I was writing this, I heard a BOOM sound, looked outside, and there was a car burning. So I grabbed my cell phone and then my camera. Always keep your camera ready folks.)
As I mentioned before, it's worth it to check out these two 50 megapixel desktop sized images here and here. They're rich in detail, and make for a fantastic desktop wallpaper.
At the end of the night, I managed to see a beautiful sunset as I was driving back. A wonderful end to a fantastic evening. Now it's time to update my class notes for my Wednesday night classes!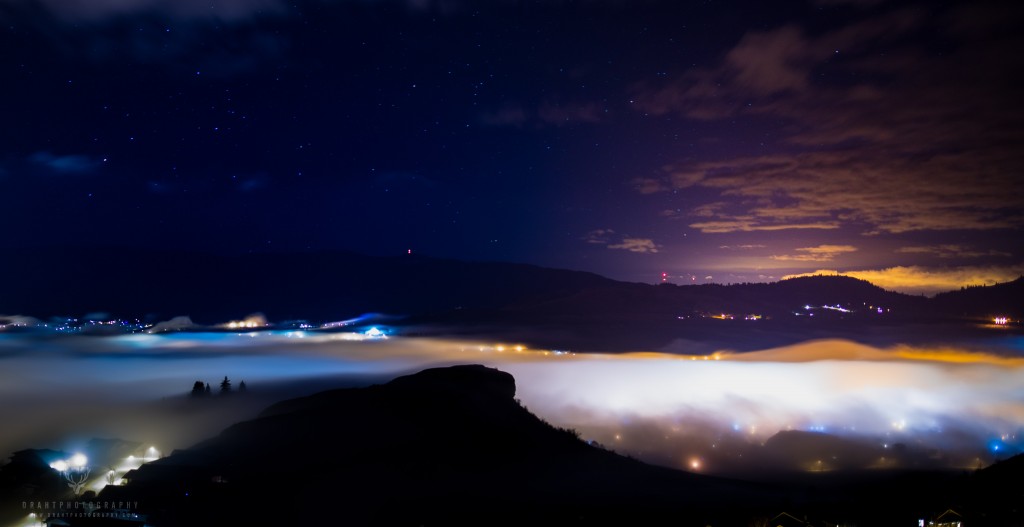 As always, thanks for reading this far. If you enjoyed this photos, and would like to see more, imagine what you'd see on my twitter and instagram and google plus! As always, you should contact me if you're up for a shoot, or would like to order a print. Talk to you in a bit!